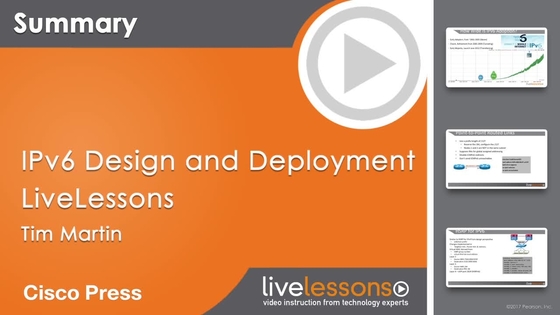 More than 6 hours of video training covering all aspects of deploying and designing IPv6 in Cisco networks.
Description
IPv6 Design and Deployment LiveLessons is a comprehensive video training course that explains everything you need to know about deploying IPv6 in your enterprise environment. The information compiled here will aid you in leading your organization to a rich and full deployment of IPv6. You will find a balance between what you need to know to design IPv6 in the enterprise and what you need to know to deploy IPv6.

There are 10 lessons with more than 6 hours of video training in IPv6 Design and Deployment LiveLessons. Coverage includes
* Design Considerations
* IPv6 Protocol
* General Design Principles
* Host Role in IPv6
* IPv6 Network Services
* Campus Design Considerations
* Data Center
* Wide Area Networking
* Translation Techniques
* The Internet Edge
Skill Level
* Intermediate
What You Will Learn
* Topical, up-to-date information for IPv6 deployments
* The ins and outs of designing and deployment IPv6
Who Should Take This Course
Enterprise network architects
Network engineers
Network technicians
Operations technicians with a networking background
Former or current CCNAs, CCNPs, CCIEs, and CCDEs
Course Requirements
Prerequisite: A familiarity with IPv4, IPv6, and basic networking. This LiveLesson would be valuable to anyone concerned with network design and the deployment of IPv6 in the enterprise business environment.
New Player Enables Streaming and Download Access
Now you can stream and download videos for unlimited 24/7 online/offline access and ownership.
* Streaming–Watch instantly as the video streams online in real time; after purchase, simply click Watch Now to get started.
* Download–Download video files for offline viewing anytime, anywhere; after purchase, simply click the Download icon in the player and follow the prompts.
Plus, enjoy new player features that track your progress and help you navigate between modules.